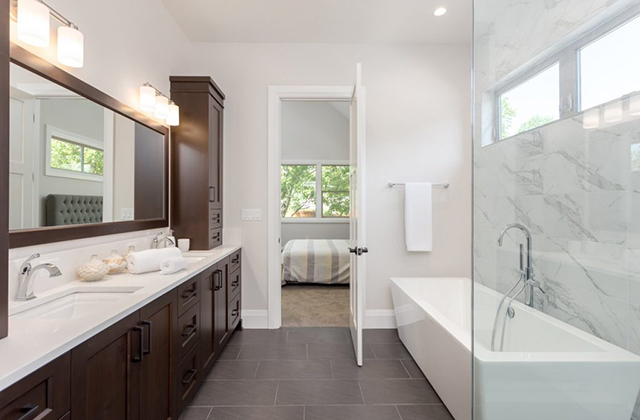 When buying a home, some people take it upon themselves to perform the inspection in order to avoid the home inspection cost. They think that since they will be the new homeowners, they know exactly what to look for and will be the best person to assess if the home is right for them or not. This is true to an extent. Certainly most buyers have already decided what basic features they want in a home and are already checking to make sure the house they buy will have these things. However, when it comes to assessing if the home is livable, functional and most importantly safe, then it is best to hand over the job to a certified inspector. Here are the reasons why:
Highly Trained
These professionals are adept at performing elite home inspections because they have been trained for it. They are not only good at checking walls, ceilings, floors, doors, and windows, but they are also informed about local and state building code. Hence, they can tell if the property is violating any rule that may later on present itself as a major cost, or worse, serious safety concern to you and your family.
The excitement and emotions you feel when you find the perfect home may cause you to overlook issues you wouldn't otherwise. A certified home inspector will give you an unbiased opinion. After all it's not their job to sell you the home, rather their goal is to help you make sure you buy a home that works. Their training also involves how to do the job systematically, so that no detail or area is left uninspected. Their findings are presented in a formal and detailed report making it easy for you to understand. A good inspector will also answer any additional questions you have to make sure you are informed about all of the issues the home has.
There is a catch, though, not all elite home inspection services have qualified staff. Some may even be practicing illegally. To avoid these providers, make sure to ask for credentials, certifications, and licenses. Check with the association of home inspectors that has jurisdiction over the area to see if they are legit.
Saves You Money and Time
Elite home inspections may seem costly, but that is nothing compared to the cost of major unexpected repairs you may miss if you do your own inspection. Are you prepared to crawl under the home or climb in the attic? Do you know what to look for when you get in there? You can hire a certified home inspector for less than 1/10th of 1% of the purchase price of most homes. Hire a professional and avoid buying a home that is going to cause you heartache for years to come. By going through the property inspection process you can move forward buying with the peace of mind that your family will be safe and secure your new home.
Added Features
Home inspection companies nowadays do more than just inspect your future property. They also offer other complimentary services as added incentive to hire them. For example, some offer insurances that will cover the repair of your sewer line for a specified period after the inspection is done. The thing is, it is difficult to check the sewers, especially the part that transcends underground to the main line. Inspectors will only be able to check the part that they can reach, so they cannot really tell if the sewer line is in a good condition and this will not be included in the scope of their inspection. Fortunately, with this type of insurance, the cost of undetected repairs will be covered. Look at the additional services each company offers as some of these may prove to be invaluable down the road.
Warranties
Another good thing about hiring professional inspectors is that they often offer warranties for their work. This covers the structural and mechanical component, so if you ever see a defect within a specified period after the inspection, they will have to shoulder the repairs for that. Some providers offer a 30-day warranty, while some can offer as long as 90-days, which is an indication that they do their inspections seriously and properly to avoid being liable and handling the cost.
As mentioned, there are home inspectors out there that cannot be trusted, so it is best to know the tell-tall signs to identify them. First, ask for a sample of their reports. If it is only five or so pages long, then back off. Most elite home inspections will be between 30-45 pages on average. These reports cover every detail, include color pictures and provide written explanations of all issues. Second, be wary of inspectors who will recommend contractors to do the repair. If they are connected to a builder or a handyman, there is a good chance that they will say that something needs repair even if it is not true. Of course, some may just be trying to be helpful, but in order to maintain their credibility then they should refrain from such conduct.
Ultimately, the cost of a home inspection is not a good reason for you to skip this step when buying a property. Just think of the problems and expenses that you will face if you buy a home with various defects. Remember, you cannot go after the previous owner once you sign the deed of sale, so be wise about it and hire a professional home inspector.
Are you looking for more information regarding elite home inspections? Visit http://www.ochomeinspect.com/elite-home-inspections/ today!
Article Source: http://EzineArticles.com/expert/Robert_Corson/2004281
Article Source: http://EzineArticles.com/8756585